Slashaliciously Good
- The continuing saga of Billy and Chuck -

SmackDown 9/6/02
Unbelievable as it may sound,
tonight may have actually topped the Posedown!!!!
Billy takes on Rey Mysterio, with Chuck and Rico at ringside
Billy gets Rey on his knees in the corner.
Billy holds Rey tightly against his chest.
Rey thought to take advantage while Billy was bent over the ropes,
but Chuck catches him and prevents the 619!
After the match, Rico grabs a mic, telling Billy that despite his loss,
this night will be the best of his career....no, his life!
Rico turns to Chuck, telling him "Now's the time!"
Rico tells Chuck to reach deep, deep into his tights and "Find the love"!
Chuck pulls out....A RING!!!
He sinks to one knee at Rico's urging, telling Billy,
"Billy, I know we've been partners in the ring for a long time now, and uh, I was just wondering...
I want you to be my partner for life."
Billy is shocked! He can't believe Chuck just proposed to him!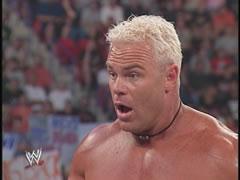 Rico pressed Billy for an answer, and Billy replies....."YES!!!"
The three ecstatic men hug in the middle of the ring!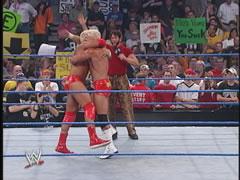 Mark Henry stops on the way to his match to congratulate the newly engaged pair.
D-von protests Billy and Chuck's engagement, saying adamantly that it's wrong!
Steph tells him where to shove it,
informing him that she's granted B&C's request to have their commitment ceremony
next week on Smackdown, in that very ring!
Funaki asks Rico for a comment on B&C's engagement.
Rico assures him that their commitment ceremony next week
will be something no one will ever forget!
He also reveals that he will be standing up for Chuck, and will be Billy's best man!
SmackDown 8/29/02
Tonight, Rico took on Rey Mysterio, with Billy and Chuck at ringside.
Rey managed to hit the 619 on Rico, pinning him for the win.
SmackDown 8/1/02
Early in the show, B&C argued, upset over the tag titles going to RAW.
As B&C walked away, Rico bumped into John Cena,
who laughed over B&C's argument, angering the stylist.
Later, Rico took on Cena to defend his and his boys' pride.
The stylist hits a brutal drop kick on a baby blue clad Cena.
Rico performs a daring moonsault.
Cena rolls out of the way, managing to roll the stunned stylist up for the pin.
After the mach, B&C run out to Rico's aid, taking Cena down.
SmackDown 7/18/02
Rico offers his services to newly appointed RAW GM Eric Bischoff any time he needs them.
Billy, Chuck, and Rico bounce down to the ring,
for a match againt Hardcore Holly and the Big Valbowski
Val can't take his eyes off the sight of Billy on his knees.
Hardcore spreads Billy out on the ropes while Val cheers him on.
Rico watches the match from ringside, cheering on his boys.
He sneaks into the ring when the ref's back in turned,
surprisnig Val with a spinning heel kick.
Unfortunately, Hardcore manages to put one over on Billy and get the pin, winning the match.


SmackDown 7/11/02
In a rematch from last week,
B&C attempt to take their tag titles back from Edge and Hogan.
Chuck starts off the match aggressively.
Edge goes down in the corner for Chuck.
Chuck takes it to the blonde Canadian beauty.
Rico attempts to interfere in the match,
but Edge spears him off the ring apron!
Billy's got Hogan where he wants him,
but Hogan just uses the position to hulk up and strike back.
It's Hogan's turn to have Billy where he wants him; on his back.
A leg drop from the Hulkster, and Billy is finished.
Edge and Hogan raise the titles in victory.
SmackDown 6/27/02
Chuck bounces down to the ring for a title defense against Hardcore Holly and the Big Valboski.
Rico follows close behind.
Val grabs Chuck and throws him up over his shoulder,
soon to slam him down on his back.
Hardcore and Val doubleteam Chuck in the middle of the ring.
Val drops on elbow on the prone tag champ.
Billy gets on top of Val and goes all the way,
pinning him to retain their tag team titles.
Chuck pulls Rico up the ramp,
eager to celebrate after their successful defense.
SmackDown 6/20/02
Billy, angry over comments HHH made about him and Chuck in an interview,
heads to the ring to take on The Game.
HHH prepares to take on one insulted tag champ.
Chuck and Rico escort Billy to the ring,
as Billy prepares to defend the honor of his partner!
Rico poses in the ring,
eager to watch Billy top HHH.
Billy poses for the crowd and HHH before the mach kicks off.
HHH stands and looks on with interest.
Billy turns HHH over and gives him a nice hard slam.
HHH finally gets Billy's head between his legs,
and delivers his famous finisher, the Pedigree.
HHH pulls Billy's knee up to his shoulder and holds tight for the threecount.
SmackDown 6/13/02
Rico tells HHH to get the heck out of the ring and left him have his match.
Billy and Chuck stand by to backup their stylist.
SmackDown 6/6/02
B&C are angry with their tag title holding stylist.
They let him know that they'd better win the titles back tonight,
or they're looking for a new stylist!
Rico tells B&C that they look awful!
He needs to get rid of the title he holds so he can give them more attention.
To how how their image is going down the tubes, he points out a zit on Billy's cheek!
Billy and Chuck take on Rico and Rikishi in an elimination match for the tag titles.
Chuck and Rico start off the match,
Chuck getting Rico to tap out by working on his wrist.
Rico holds his limp, injured wrist while Rikishi faces B&C alone in the ring.
Billy is pinned soon, leaving Chuck to face Rikishi.
Rikishi sets Chuck up for a Stinkface.
Fortunately, Chuck is saved from the Phat man connects and Rico has a heart attack!
Chuck takes it to Rikishi with a kick to the face.
Chuck makes the pin, getting back their tag team titles!
Chuck bends over for his partner,
holding his newly reclaimed belt.
The ref raises B&C's hands in victory.
The babes in red are the champs once more!
Time to celebrate!
All pictures from WWF.com.
Thanks to Val for 3 of the thong pics!