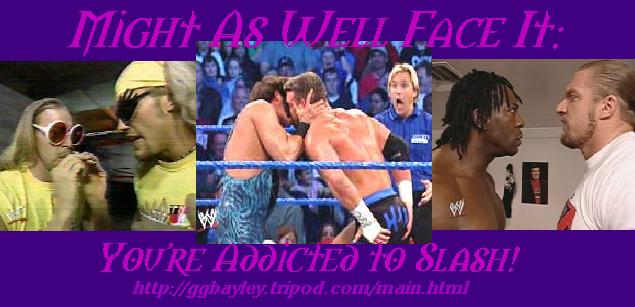 Hi all! Welcome to GG Bayley's house of slash!

I've been writing as a hobby since mid-2000, so the site of full of WWE slash, from various time periods and with many different characters and couples. Updates are fairly regular, and I am always reachable via email.

Enjoy! Please do drop me a line if you have any comments on the site or feedback on stories! (ggbayley@gmail.com)
To get my new stories faster, check out the following lists:
GG Bayley Fanfic
Wrestling Slash
Author: GG Bayley
Fandoms: WWE, TNA, other
Fic: m/m, f/f
Writing: 2000-current

Featured pairings:
CM Punk/Elijah Burke
Edge/Christian

**Warning:The term 'slash' implies sexual or romantic relationships between people of the same gender. If this offends you, this is not the place for you! This site contains heavy slash content, most of which is material meant for adults only and not suitable for children.**



Billy & Chuck's Slashy Goodness (archive)


---
**Updates**

22.3.11
The Punk/Lij/Kofi Saga:
Awoken Again
Getting Closer
Visiting Passion
and more to come!


21.11.10
Added fics:
A Little Love
Us, Together
Forcefully Recruited
Added fic pages for:
NEXUS
Wade Barrett
David Otunga
Justin Gabriel
Husky Harris
Mike McGuillicutty


6.11.10
Added Punk birthday fic:
October 26th For the 32nd Time
And fics:
The Point
More


29.10.10
Added fics:
Straw in the Hay
With Whom to Share


28.10.10
Added fics:
Playful
The Sexy Daze
Added fic page:
Colt Cabana


27.10.10
Added fics:
Define Naughty
For Paris
Ink
Mmmhmm!
Moving In
Nightmare to Fantasy
A Quick April Morning


24.10.10
Added brand new fic:
No Bragging
Added fic page:
Alex Riley
Note:
I got to see the Bragging Rights PPV live, and it was awesome! It inspired me to write the above Punk/Miz fic. I think this is the first time I've added a fic to the site on the day it was written! The PPV was AWESOME, I highly recommend buying a replay or the DVD as soon as it comes out!


23.10.10
Added:
Punk/Lij Moments Series Page
12 fics in Punk/Lij Moments Series
Also added fics:
Desperate Times
Disaster
After the Disaster
No Fair Bet
Sound Off
Stress Reliever
The Substitute Birthday
Insecure & Horny
That Sucks, But What's This?
Complications of Cheating
Random Locker Room Moments: Darn it!
Dirty Fantasy
Added fic pages:
Kevin Thorn
Heath Slater
Kofi Kingston
Shad
JTG
Orlando Jordan
Cody Rhodes


30.9.10
Added fics:
LTR
Salve
If the Worst
Lovely
Your Horizon


21.2.10
Added fics:
More Than a Tease
(Un)Important Numbers
No Accessories Needed
If You Wake Me...
Who Shall He Be Now?
Still I Believe


20.2.10
Added fic:
Warmth
Added Page:
Punk/Lij Universe Fics


24.10.09
Added fic:
Night's Heat


8.3.09
Added fic:
Taken Too
Side Benefits, The Best
Some Fairy Tale


28.2.09 Added fics: A Bedroom FeatMe Stadt
Precious
Passion In


13.1.08
Added fic:
A Role to Play
Thanksgiving Turkey

Personal Fables: Tomko
Spirit (Halloween Fic)

Added for page for:
MVP
Finlay
John Morrison


15.7.07
Added fic:
Momentary

Updated Slash Quotes

30.4.07
Added Fic:
Worth Fighting For

Added fic pages:
Elijah Burke
CM Punk

I have now passed 100 characters written on my m/m slash page!!!!

---
Want to link to me? Click here for a selection of pretty banners.



View My Guestbook
Sign My Guestbook

---
The Wrestling Slash SiteRing
Your best source for Slash on the Net
This site owned by
GG Bayley
SiteRing by Bravenet.com